Petoro pointed to an unsustainable development in costs as early as in 2010. The industry addressed the issue in 2013 and, with Statoil leading the way, the industry has done a lot of good work over the last two years. From 2013 to 2015, the pace of drilling has doubled and well costs have been slashed in half in the largest mature fields in the SDFI portfolio, which Petoro is charged with managing. Vice President Technology Roy Ruså is surprised over the tremendous impact that streamlining, using best practice, better planning, measurement and renegotiation of rates has actually had.

As regards renegotiating rates for goods and services, it is natural that these rates are challenged, so that we can, in turn, drive this efficiency down in the supply chain, but Ruså believes that this path to lower cost levels has limited potential.

"For many deliveries, the economic impact is largely linked to the expertise and the work processes – and not directly connected to what we pay for the product or service. We rely entirely on capable and involved suppliers, and they obviously have to make money. It shouldn't turn into a competition over who can hold their breath longest," says Ruså. 

 
GOOD, BUT NOT ENOUGH
What has been done is fine, but it isn't enough. And we can't automatically assume that we can sustain these results. The underlying cost growth will continue and, in combination with technical and operational factors, this will make it challenging for new projects to achieve profitability.

Ruså believes there is hope for further improvements when we look at the areas that have not yet been sufficiently explored – like technology, new business models and cooperation cultures. He highlights digitalisation and more efficient use of real-time data and measurements and historical data linked with real-time data as examples of new technology.

"We've been working on this for more than ten years, but we are still just getting started. New business models cover everything from contract incentives that promote efficiency, to innovative roles and interfaces between customers and suppliers," says Ruså.

 
In an overall perspective, potential improvements will require innovation and major changes in the way the industry works, and in expertise. Not least, they will require cooperation, a cooperation based on openness and trust, not a cooperation where one party just does what the other party tells them to do. This is easy to say, but the reality is that a transformation is needed in the coming years.

"If we enter into this with the attitude 'that's not how we do things in my company', we will not succeed," says Ruså.

Greater efficiency and innovation has value beyond operating fields. More than 90 discoveries have been made on the NCS. In the SDFI portfolio, we participate in more than 40 of these. With the "old" oil price, 23 of these were considered to be feasible for development. With a price of USD 55, just 9 of the 23 were feasible. But, if we can cut costs in half, nearly all 23 will be feasible.

"This may sound impossible, but we have done the impossible before. That's how we developed the Norwegian Shelf. Maybe because we didn't know it was impossible?" says Ruså.

"Overall, potential improvements will require innovation and major changes in the way the  industry works, in expertise and, not least, realisation will demand cooperation."
Roy Ruså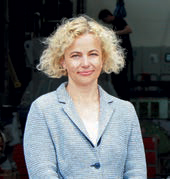 Linn Cecilie Moholt, CEO of Karsten Moholt AS – an electro-mechanical expertise centre headquartered on Askøy outside Bergen
Change takes more than talk
How does the situation in the oil sector look, from your perspective?
"During tough times, it's easy to cut back on maintenance to achieve short-term cost reductions. In the longer term, we know that breakdowns, loss of production and skyrocketing costs are an inevitable result. After nearly two years of tight budgets, we are starting to see the breakdowns. The key here is to monitor and repair faults as soon as possible. This makes it difficult to understand why the hourly rate for an emergency repair becomes the hottest topic when a mishap occurs. Why should the focus be on reducing repair costs from NOK 1,000,000 to NOK 950,000 instead of avoiding the repair entirely by being proactive and fixing the problem at an early stage?"
Has the oil industry started to repair more, like other industries do?
"There is growing focus on repairs, and we hear this communicated more and more often as a desirable direction for our industry. But this has not materialised yet. The number of repairs actually carried out continues to decline."

Is there a genuine cooperation where you, the suppliers, can contribute? 
"Tougher times have clearly opened up new channels of communication across the board. Small niche suppliers with top-notch expertise are being heard, and are allowed to participate in a different way than before. If this trend continues, and is not just talk, but if what we talk about is actually implemented, then I do believe in change."
Facts – NCS
An analysis of the production on five of the major fields on the Norwegian Shelf revealed that, if we double the pace of drilling from the 2013 level, we can produce 20 million more cubic meters of oil over the next ten years, a value of NOK 30 billion. Big numbers that are hard to comprehend, but to put this into perspective: One million seconds is 11 days. One billion seconds is 30 years.