The models are huge and complex, and production experience and new data render them obsolete in just a few years. Developments and updates are time-consuming. Now, new technology makes it possible to update the model much faster, while also enhancing quality. This demands new expertise and new work methods.

Before a decision is made to develop a field, mathematical models are prepared to indicate how much oil and gas the reservoir holds, and how it is all moving. As access to data is limited in the beginning, the models are simple.

"Data from new wells, new seismic and production experience require regular updates of the models," says senior adviser Asbjørn Voll, who works with the Snorre field on a daily basis.

Upgrades of the reservoir models are very time-consuming and demand the efforts of many technical specialist groups.

"Lack of confidence in the model can give rise to disagreement as to what is actually hidden underground. Many times, this leads to postponing necessary decisions in the licenses, sometimes indefinitely," says Asbjørn

NEW WAY TO WORK
Earlier, reservoir models were built according to the assembly line method, where the various experts contributed knowledge, one by one. More data, new software and a vast increase in computing power made it possible for this group of specialists to work more closely together, using all of the data in increasingly integrated applications.

"4D seismic has reduced the scope of uncertainty over the last 20 years," says senior adviser Olav Barkved. 

"A comparison of surveys conducted a few years apart can tell us a lot about what is happening in the reservoir. But it takes time to acquire and interpret 4D-seismic," he says.

Since 2003, several fields have got permanent seismic monitoring using data sensors and cables on the seabed. Petoro has been a driving force here, and is a partner on three fields that have such monitoring: Ekofisk, Snorre and Grane. More new installations are being considered.

"Permanent seismic monitoring allows us to analyse the effect of production faster, and is often of much better quality," says Olav.

EXACTING WORK, BIG PAYOFF
Today, updating a model with new information about new wells, new seismic and production can be automated. This technology is making fast inroads on the Shelf, allowing models to be updated with a keystroke. The work is still exacting, but is transitioning from updating the model to designing the automated work process.

"On Snorre, this took the operator 3-4 years. The advantage is that when you have done it once, all the future updates are automatic," says Voll.

There are always uncertainties as regards how much oil and gas is left, and where it is, due to the complexity of the reservoir. Statistics and probabilities are used to prepare alternative models and to find which models fit best with the production data and 4D seismic, and also conform with our understanding of the geology. This helps quantify the opportunities and the risks, and thus gives the licence partners more objective and reliable information about where investments will yield profit.

 
An uncertainty of one meter on the top reservoir can represent a difference of billions in value. Therefore, Petoro works tirelessly to improve the data basis and the modelling technology. The use of new technology places new demands on the technical experts.

"Before, one could specialise in particular niches. Today, we also need broader understanding. But technology allows us to deliver a better basis for making decisions, faster," says Olav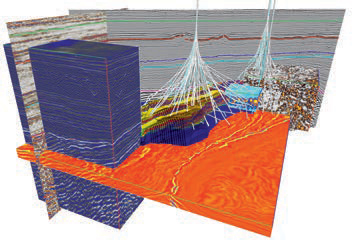 MODEL FROM SNORRE: The sheer volume of information means that it takes several years to develop relevant reservoir models on producing fields. New technology is enabling us to update the models much faster, while also enhancing quality. This can be decisive when billion-kroner decisions are on the table. Source: Petoro